"When an alien resides with you in your land, do not mistreat such as these. You shall treat the alien who resides with you no differently than the natives born among you; you shall love the alien as yourself; for you too were once aliens in the land of Egypt. I, the LORD, am your God."
— Leviticus 19: 33-34
"In the Church, no one is a stranger, and the Church is not foreign to anyone, anywhere."
— Pope St. John Paul II
"Migrants trust that they will encounter acceptance, solidarity, and hope, that they will meet people who … are open to sharing humanly and materially with the needy and disadvantaged."
— Pope Francis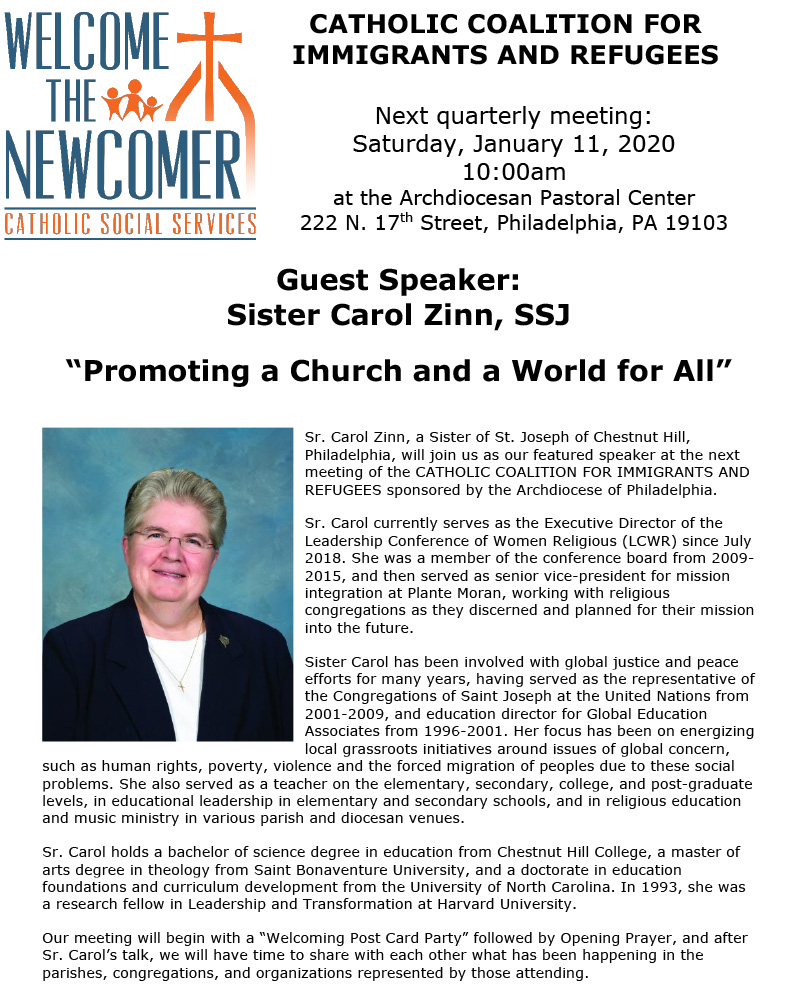 The Call of the Church to Stand in Solidarity with Newcomers – Immigrants and Refugees
Over my 46 years of priestly ministry, I have spent much time with immigrants and refugees. I have heard their stories, shared their struggles, and helped them to make a better life for their families here in our country, their new home. By and large, these are good, honest, hard-working and faith-filled people, who make up a significant and growing part of the Catholic population in our parishes across the region. The U.S. Catholic Bishops stand in solidarity with those fleeing violence and poverty in their homelands, and remind us of the Gospel call to welcome the newcomers among us. The Bishops acknowledge the legitimate role of government in enforcing our laws, but enforcement alone is not the answer. We need comprehensive immigration reform that includes wise immigration policies that respect due process, protect the human rights of all people, and values the unification and integrity of families. And we should be working with our neighbors across the border to address the root causes of migration that cause people to leave all and come here. I invite you to be in solidarity with these brothers and sisters of ours, to ENCOUNTER AND ACCOMPANY THEM, to meet them as people whose experiences might be different than yours, but whose hopes and aspirations for themselves and their families will be familiar to you – they are the same as what brought most of our immigrant ancestors here in the past. I challenge you to advocate for them in whatever way you can, using the gifts God has given you to Share the Journey with them. – Most Rev. Edward M. Deliman, Auxiliary Bishop of the Archdiocese of Philadelphia
Will you stand with us in welcoming them? Contact us here to find out how you can help.
Ministry of Accompaniment
The Ministry of Accompaniment, coordinated by POWER Interfaith in collaboration with the Catholic Coalition for Immigrants and Refugees of the Archdiocese of Philadelphia, invites concerned Catholics and our friends and partners to serve as volunteers willing to attend court hearings and other official proceedings in support of immigrants who are undocumented. These hearings can be deeply unsettling for those going through them: some may enter the courtroom alone because they cannot find or afford legal representation, and many others have family members who are fearful of appearing in a court setting. Too often, the outcome is family separation through detention and deportation. Accompaniment volunteers provide moral support for the individual, and visible but silent testimony to court officials that the community is observing the proceedings. Volunteers are trained in advance, attend court in groups, and are not expected to provide any form of legal or social work advice.
For information about upcoming training sessions—or to share information about this resource with immigrants seeking accompaniment–please contact Dr. Mary Laver, who serves as the Catholic community organizer with POWER Interfaith, at: mlaver@powerinterfaith.org OR 610-324-9388
How You Can Help